Purchase order inventory management systems
We're often asked if an ERP system is a purchase order inventory management system. This is a common question that comes up during demos.
Depending on the ERP system you opt for, a purchase order inventory management system could be part of the wider ERP system. In Fraction ERP, we include this functionality as part of our standard subscription.
Some systems will have more extensive features than Fraction ERP. They come with the price tag to match too!
Let me explain some of the features of Fraction ERP around purchase orders and inventory management.
---
Meeting demand without breaking the bank
At the core of Fraction ERP is our part demand screen. This allows you to determine what you need to make and buy. Fraction ERP is one of the most cost effective ERP solutions on the market and still has this function!
With a glance you can see what you need to purchase for your factory's works orders. With a couple more clicks you can raise the necessary purchase orders.
---
Creating purchase orders with the least amount of effort
Fraction ERP lets you raise manual purchase orders, or semi-automatically generate them. Editing the orders is quick and simple, as you would expect with a modern cloud ERP system.
Add in extra purchase order lines. Change prices and required delivery dates. Link your purchases to your work orders (if you have raised them manually).
When you are ready, you can email your suppliers directly from within Fraction ERP.
---
Purchase order approval control
Keep control over your purchasing activities with Fraction ERP. Assign privileges to ensure only the right people are creating purchase orders. Use the approval limits to ensure control with larger purchases.
This functionality comes with all subscriptions.
---
---
Receipting stock from suppliers
When your delivery arrives, book in the items and your stock levels will increase. If you need to perform a goods inward inspection, you can configure this part by part.
If you select this option, a check will need to take place before receipt. Only then will the new stock update your stock levels.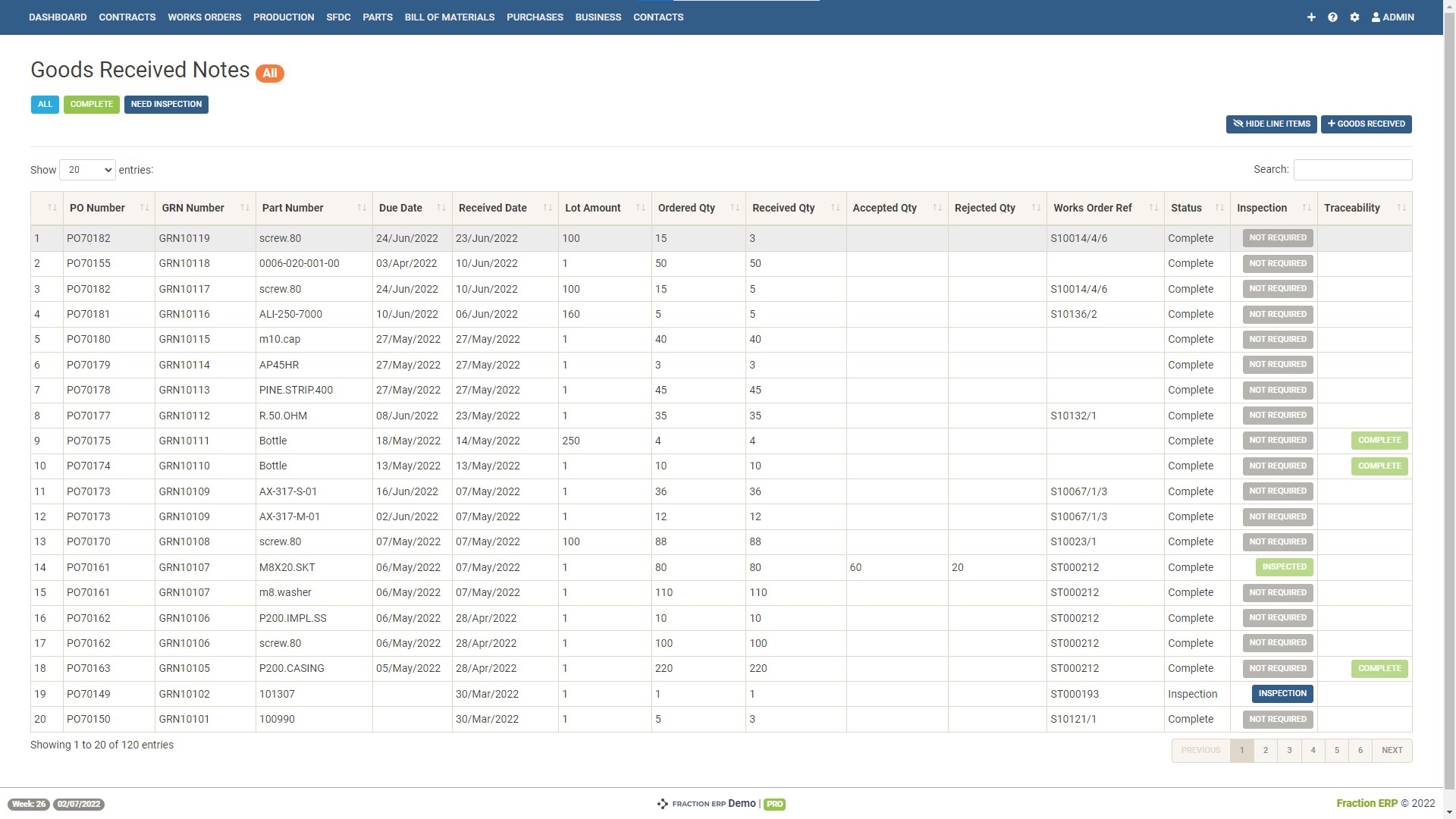 ---
Integration with accounting software
Avoid double entering information when your purchases arrive. After you have booked them in, press the button for your accounting system and it will pass the data over.
At the time of writing Fraction ERP integrates with Sage, Xero and QuickBooks. Configuring the integration is quick and simple. From the dashboard, click on the integration, sign into your account and authorise. That's it!
---
---
Traceability controls
Being able to identify batch traceability is key for some businesses. In Fraction ERP you can switch this on for both purchase and production orders.
Again, you control this on a part by part basis.
---
Controlling stock and making adjustments
Maintaining stock levels is largely automated within Fraction ERP. Delivered purchase orders and completed works orders increase stock. Issued stock (for production) and despatches decrease stock levels.
Sometimes you need to adjust stock levels manually. This could be for damage, non-production orders or any other reason. Our stock adjustment tool can allow you to quickly make these changes and record the reasons why. All of the stock transactions are visible against the part history. If you operate a perpetual inventory stock taking system, Fraction ERP works really well here.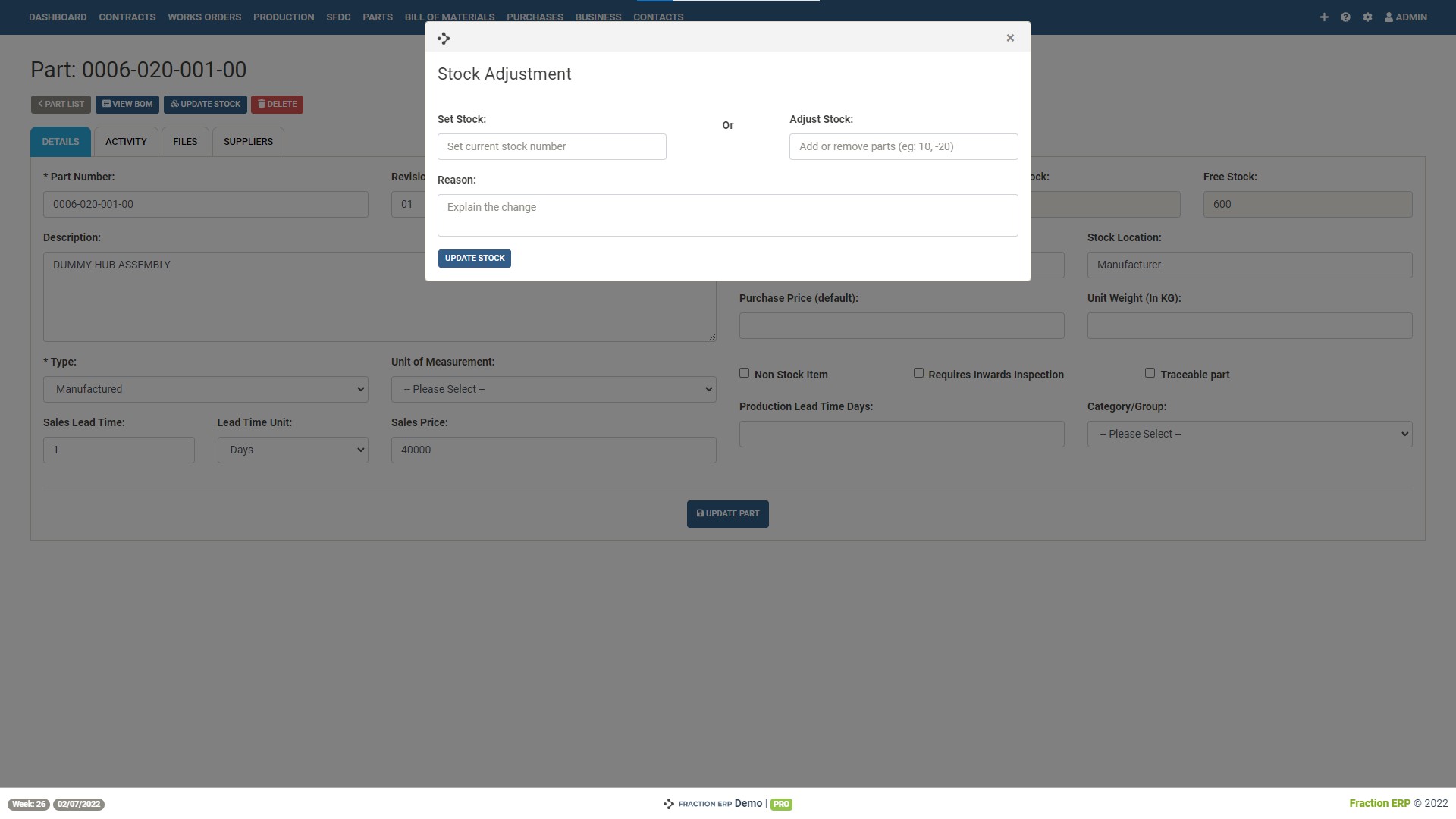 ---
Arrange your free demo and trial
To help you determine if Fraction ERP is a good fit for your business, we offer two things:
1. A free online demo, so you can get a better feel for how Fraction ERP can work for your business. You can also check out our other videos here.
2. A free two week trial. This allows you and your team to poke, prod and play with Fraction ERP to test out the functionality. You get a chance to see if Fraction really would be a good fit for your business.
If you want to explore Fraction ERP further, just fill in our contact form.
I hope that you now have a better understanding of Fraction ERP and how it also performs as a  purchase order inventory management system.