What is MRP Software?
MRP software has been helping manufacturers to run their factories since the mid 1970s. MRP stands for Materials Requirements Planning and is the central core of most factory software systems. MRP has since been augmented with MRPII (Manufacturing Resources Planning) and evolved into the widely used term ERP. ERP stands for Enterprise Resource Planning, which combines all business functions including quotations, bills of materials, inventory management, production tracking, shipping and invoicing.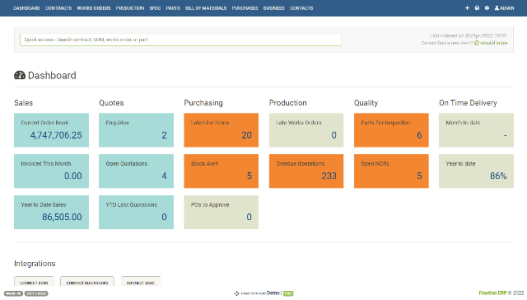 MRP Gives Manufacturers Control and Visibility of Their Business
If you are currently using spreadsheets and whiteboards, you probably know the struggle and difficultly of getting information quickly! Keeping it up to date, getting access and integrating your team is another challenge all to itself. MRP software is designed to give you the information and access you need to see where your orders and materials are.
Fraction ERP uses a simple visual dashboard to keep you in control, responding quickly to exceptions.
MRP Software Reduces Errors and Mistakes
By using integrated software you will experience fewer mistakes and errors.
Data is linked between all modules, reducing typos and mistakes.
Nothing should get forgotten about in an MRP system with simple alerts and dashboards.
Read our Case Study
MRP Software Enables Efficient Operations
Efficiency and productivity improvements are key outcomes of adopting a suitable MRP software for your business. There are many ways that MRP software can help improve your operations:
Reduce time maintaining data and spreadsheets.
Optimise your purchasing and inventory management
Improve production planning and scheduling
Integrate with accounts and 3rd party apps