Purchasing and Inventory Management Software
Streamline your purchasing and inventory management with the MRP page in Fraction ERP.
Purchase Order System
Fraction ERP has a simple interface and an easy to follow workflow. Raising purchase orders from our MRP pages is easy for current production demand. Stock alerts will ensure replenishment orders are placed on time.
Purchase order approval process
Direct email of purchase orders
Store documents, material certs, photos etc.
Export reports to Excel
For a make-to-stock or make-to-order business, production demand is controlled by the MRP page and links are automatically created to easily tracked items.
Inventory Management
Every part in Fraction ERP has a full history of activity, showing contracts, purchase orders, NCRs and the stock transaction log.
Drilling down to see activity history is very easy. This includes the ability to see all serial numbers for traceable items.
Service items such as subcontract processing can be marked as "non-stock" items so inventory is not tracked.
Purchasing Dashboard Keeps You in Control
Stop running out stock just when you need it! Our stock alerts on the dashboard give instant visibility to any items that are below your minimum stock quantity. The late line item alerts shows you as soon as materials or parts are late from your suppliers.

Quick links from Fraction ERP's dashboard:
Late line items from suppliers
Low stock alerts
Purchase orders for approval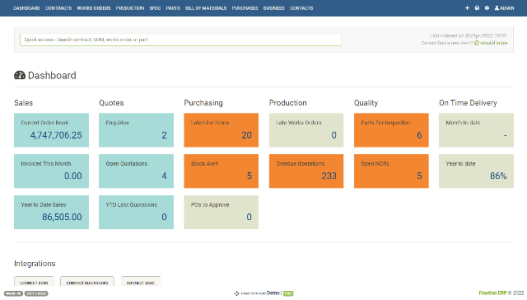 Backflushing
To ensure accuracy and save time with inventory management, Fraction ERP utilises a technique called backflushing.
This uses a tried and tested logic that says 'if you produced ten items then you must have used ten times the Bill of Materials quantities'. This method removes the need to rely on a stores operative to kit a production order and manually decrease stock levels in the ERP system. Fraction ERP uses triggers in the production process to do this automatically; one less thing to worry about!