Cloud ERP Software
The days of having software installed on a local server are over. Cloud hosted software is lower cost, easy to access and gives you flexibility.

Fraction ERP is a cloud ERP system, helping you to run your factory wherever you are in the world. All of the costs and frustrations associated with having an ERP system on a local server are gone. All you need is a web browser and you are good to go.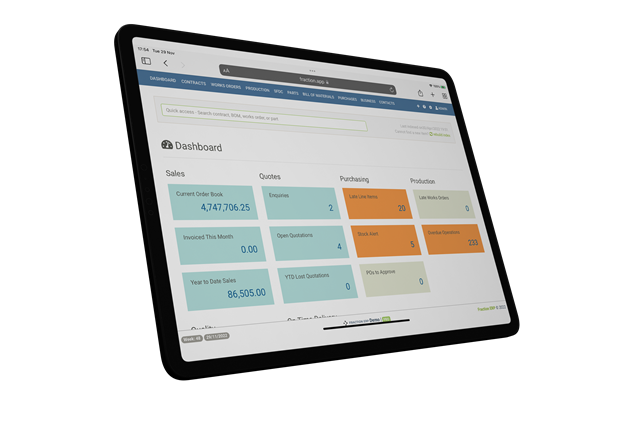 See Your Business in Real Time, Wherever You Are.
Fraction ERP is fast, reliable and easy to access. Forget spreadsheets saved on the network, or trying to run reports over a VPN. Fraction ERP is cloud hosted and gives you easy access to all business processes with an easy to use dashboard.
Watch Video
Doing Business in the Digital Age
Modern companies need to ensure their data is reliable and secure. Real time data is needed by employees to manage processes, make decisions and keep your business running. Cloud software provides a budget friendly and ideal solution for small to medium sized companies with many benefits:
Hosted in highly reliable and secure data centres.
Automated 24 hour backups
No installation or configuration
Automatic software updates
Scale up or down with your business needs
No upfront investment costs
Real Time Tracking with Free and Unlimited Shop Floor Data Capture
Shop Floor Data Capture (SFDC) is free and unlimited with Fraction ERP. No add on modules or hidden charges. Employees use a simple pin code so no hardware to set up!
Track progress of works orders
Monitor utilisation of resources
Close the loop with actual vs planned operations feedback
Cloud Integration
Integration of cloud software is easy and increasingly part of the a cloud solution. Simply connect to your cloud applications and they can transfer data, making everything a seamless user experience. Fraction ERP integrates with the following cloud accounting software:
Xero Accounts
Quickbooks Online
Sage Business Accounting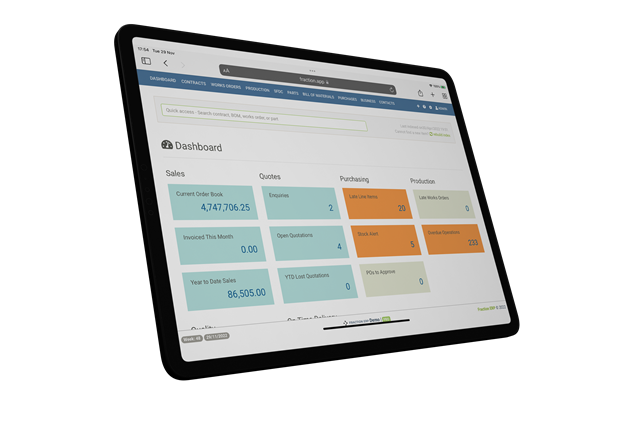 How Fast Can You Deploy Fraction ERP?
Fraction ERP is a cloud based ERP system, so we can deploy within hours. We suggest an online demo followed by trial account to test the software in your own workspace, then a subscription can be started anytime.
Free online demo and 14 day trial
Scale up your users and subscription package as needed
Easy to follow support and short online tutorials
Unlimited online and telephone support