The new daily production scheduling method
Our updated daily scheduling function is now available within our cloud ERP system.
We have taken the approach of layering the scheduling function. This means that the person who schedules the work orders can save time. A lot of businesses waste an enormous amount of time scheduling and re-scheduling their works.
Using the scheduling horizons approach, we have adopted a sequential scheduling process. The weekly buckets get scheduled first (aka rough cut planning) and then daily scheduling can be carried out closer to the time.
If you haven't seen this approach before, check out this article.
The daily scheduling screen follows the same visual approach we took for the weekly scheduling system. As you can see in the screenshot below, the allocated capacity is shown visually within the scheduling tiles.
---
Weekly buckets view within our scheduler, with capacity bars included
---
The daily scheduling tool looks similar, as you can see in the image below.
The main difference here is that you see the days within the weeks.
---
Daily scheduling within Fraction ERP
---
We've updated our video walkthrough, to help you get a better idea of how this daily scheduler works. You can see this in the video below.
---
Walkthrough of Fraction ERP's production scheduling tools
---
This two step approach ties in neatly with our production tracking tools. 
Saving time scheduling is just one part of the equation. If you can quickly create a schedule that is both efficient and effective, that is great. If you can also track production through your factory with the least amount of effort and highest amount of accuracy then you have cracked a big nut(!). Fraction ERP is designed to do this.
---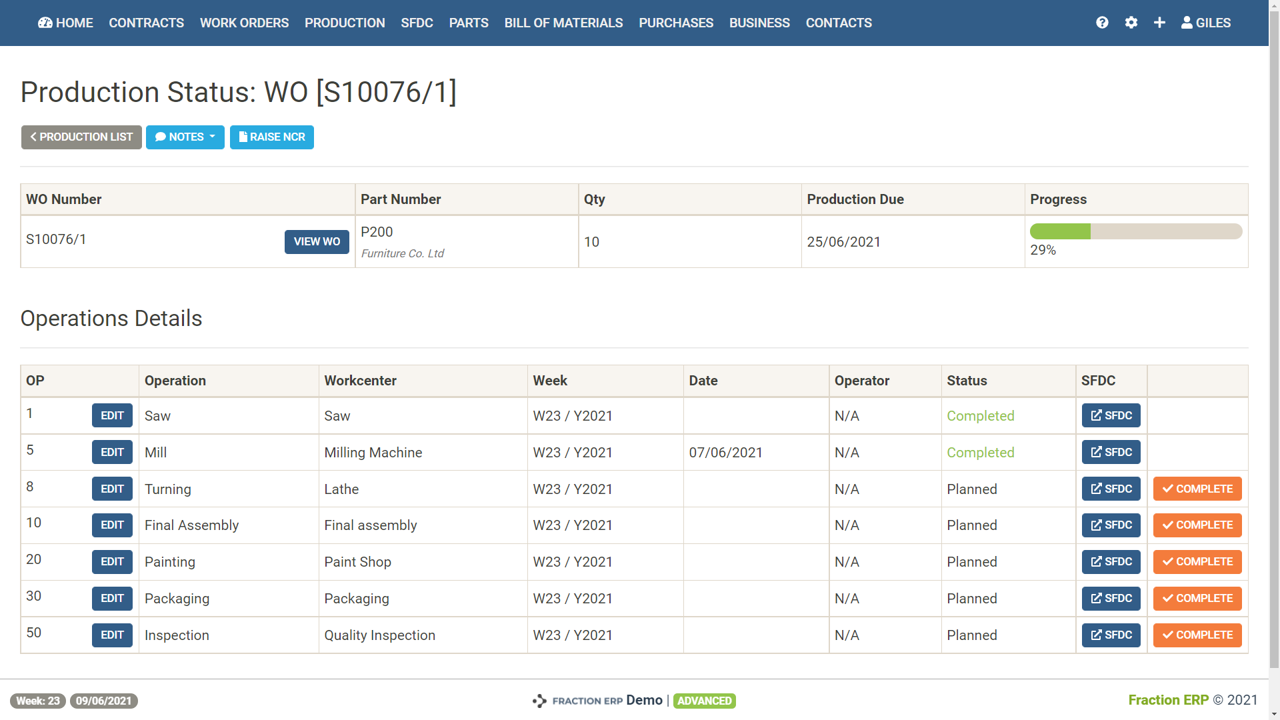 Screenshot of the work order tracking tool
---
You can see the above tracker in operation, by viewing the video below.
We designed the high level tracking screen to give any production team a quick view of their orders. The drill down, and links with shop floor data collection, provide the detail all managers need.
---
Walkthrough of the shop floor tracking tools within Fraction ERP
---
To find out more, get in touch to find using the form below and arrange a free demo.