How to use an ERP dashboard
A dashboard is a key part of any modern ERP system. Fraction ERP is no different but how you use it makes all the difference. In this article we are going to share with a few ideas to get the most out of this tool.
---
1. Keep your finger on the pulse
The primary use of the ERP dashboard is to keep yourself up to date. When you open Fraction ERP this is the screen that you start with.
---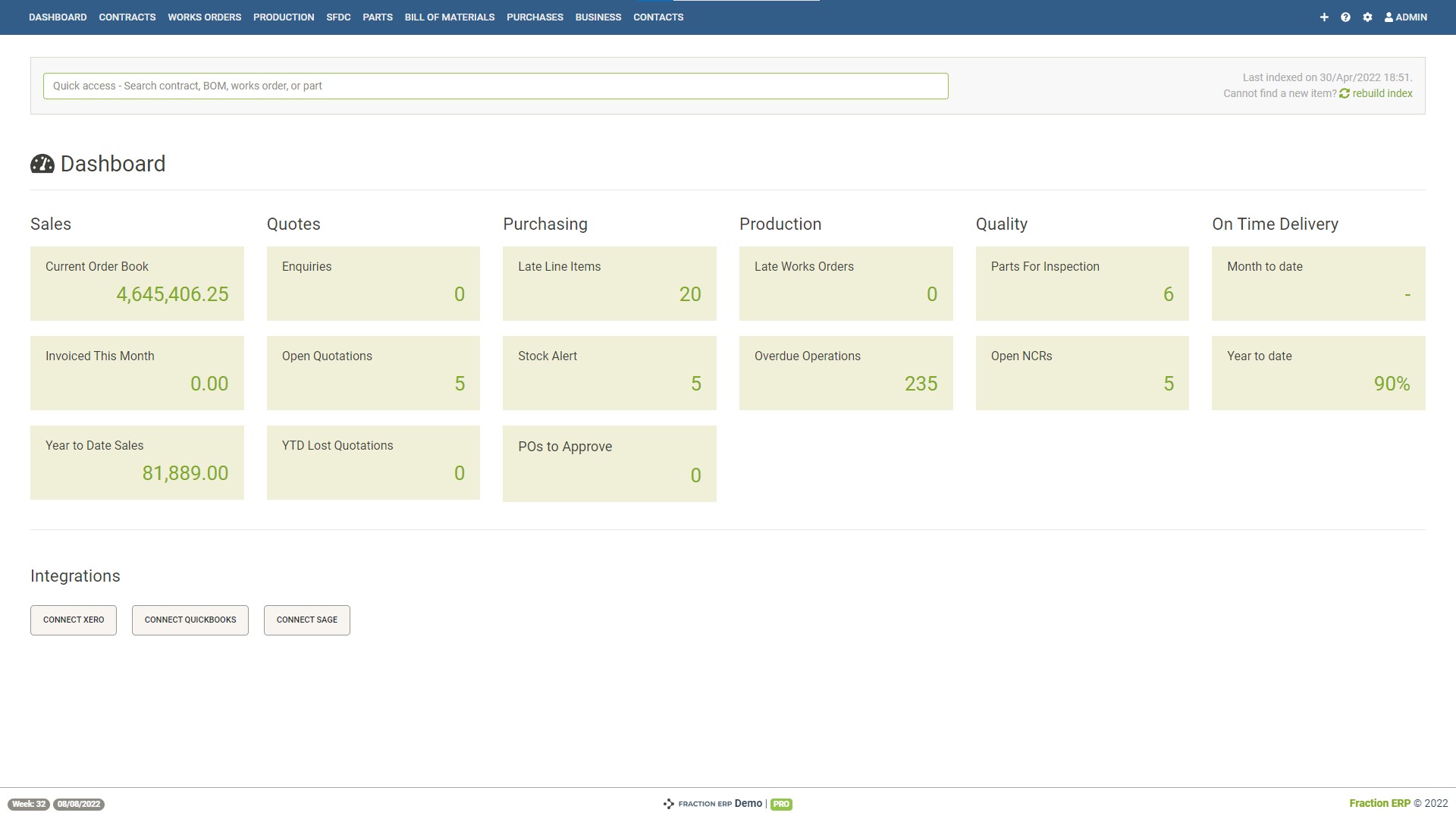 Fraction ERP's dashboard
---
At a glance you can see where you are with various processes. What is on your dashboard will depend on what ERP system you are using. Fraction's dashboard includes the following items:
Invoiced this month
Number of open quotations
Late purchased order lines
Number of stock alerts
Number of late works orders
On time delivery performance
Open NCRs
Forming the habit of having a quick look at the dashboard when you open up your ERP system is a good idea. Or, scheduling a few minutes a couple of times per week to review the information is ideal.
This leads me to the next point. 
---
2. Drill down to exceptions
Knowing that there is an issue to pounce on is one thing. Doing something about it is another.
Using an ERP dashboard is a great tool to 'manage by exception'. Instead of getting tied up with every little detail, focus on the issues that are going to cause problems.
This approach saves time and saves your energy for the things that matter. With the Fraction ERP dashboard you can click on the hyperlinks and view the key data right away.
For example, if you were responsible for purchasing, then you could drill into the late orders. With one click you can view what is late. Our search filters then let you view the data to suit your needs, allowing you to manage your supply chain.
And, this brings me nicely to the next point.
---
Drilling down into exception data with a single click
---
3. Assign accountabilities
Amongst your team, you can split up the dashboard. Make everyone on your team clear which metric they are responsible for.
This works regardless what your ERP dashboard looks like, or what system you use.
Set 'what looks good' standards for your team to live up to. For each metric give the person responsible a clue of what they should be looking to achieve. This provides useful context when reviewing the dashboard. If you don't set some expectations then the numbers run the risk of being meaningless.
And that takes me swiftly into the final point.
---
4. Sunrise meetings
You may have seen this in other blog posts we have written. A sunrise meeting is a short daily process orientated meeting. The agenda is short and to the point and has a central theme:
'Did every process execute yesterday the way it should have?'
In an ideal world, every question should lead to a 'yes' answer, for example:
Did all the supplier deliveries arrive on time?
Have we sent all the quotes out?
Are all production orders on track?
Is everyone present today?
The people attending should prepare a response if there is a 'no' answer. For example, if supplier deliveries haven't all arrived on time:
"No, everything will be with us by 10:30am today. This only affects the XYZ order and will ship tomorrow morning."
A short sunrise meeting can keep your whole team on track and is a great way to use an ERP dashboard.
---
Free trial
Fraction's dashboard is simple to use and you can find out more with a free two week trial. To learn more about our system please check out our features section.
To organise your free demo and trial, fill in the form below.