An ERP system that works from anywhere?
How has working during lockdown affected you and your team?
It has been a struggle for most of us, that's for sure. One of the interesting outcomes we have observed is the surprise that many people had not realised just how much you can get done using cloud systems.
So, it's true - you can work effectively from home, at the kitchen table!
Working during lockdown
At the time of writing, the UK is subject to tighter restrictions and working from home is being promoted. Manufacturers that we have spoken to have stressed the trouble they have had with support staff working from home due to their ERP system being on premise and keeping track with production. Their systems haven't been geared up to remote working.
This is understandable; seven months ago this wasn't foreseen as being a risk for most businesses. 
Self isolation and school closures have led to impromptu closing of offices and flexible working is the new norm. This is exactly the time when having an ERP system in the cloud shows you just how useful they can be.
You can't drag a whiteboard home...
Moving away from spreadsheets, whiteboards and paper based systems has never made more sense than right now.
Many businesses use whiteboards and spreadsheets if they don't have an ERP system. You can see the obvious problem with this if you have decamp from your offices due to working at home arrangements.
You can move your whiteboard onto an online (cloud) tool easily, as you can with your spreadsheets.
But, if you want to experience efficiency and effectiveness, then you need to consider upgrading these tools to a cloud ERP system. An ERP system allows you to reduce administration, effectively by reducing the level of input required and the number of systems you need. A cloud ERP system does this but without having to be near your local server.
Simple tracking screens can replace cumbersome whiteboards
Cloud ERP - work anywhere!
If you have a local server based ERP system then you will know issue of having to be on your local business network to access the data. VPNs and other methods exist to help you access data remotely, introducing alternative security risks and bringing a lot of frustration with slow response! Most small business networks just aren't designed for this. A big benefit of cloud ERP is that your production teams and production staff remain connected, working in real time from anywhere.
This means that the salespeople can input their quotes and sales orders from anywhere in the world.
Production Planners can schedule production and monitor production from their kitchen table.
Production Teams can get on with production, knowing that the information they need is at their finger tips (even if admin staff and engineers are not around them).
Management can still manage, using their dashboards and filtered information.
Working in the cloud offers flexibility and advantages that server based options just can't.
(If you want to know about some other reasons that using a cloud ERP system makes sense, then check out this article.)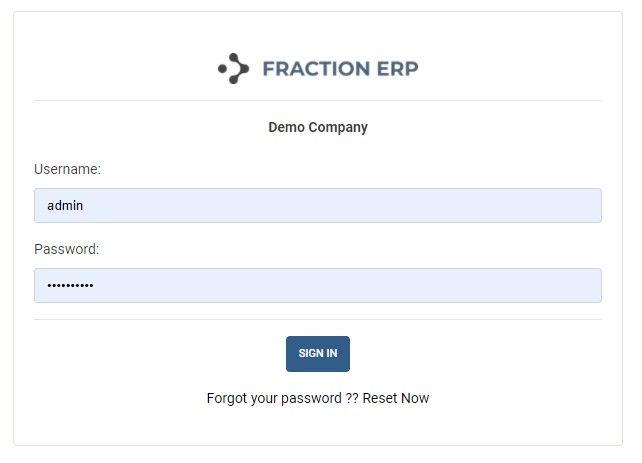 Cloud ERP - just open an Internet browser and get going!
Fraction ERP
The reason that we developed a cloud based ERP system was for the very points raised above. The system shouldn't be a constraint, it should be a productivity tool.
We have kept the system intentionally light, so you can use it anyway that you want to use it. Releasing productivity through light systems has been one of the guiding principles we have stuck to whilst developing Fraction.
If you want a flexible, fast, cloud based ERP system then check out our no obligation demo. During an online video call we can show you just how quick and user friendly the system is. To arrange your demo, enter your details into the contact form below.
We believe that moving your ERP solution into the cloud can offer a competitive advantage. We also believe that a quick to learn system that is both powerful and effective will help your business to become more productive and truly deliver the promises that ERP can offer.
Finally, we don't know when COVID-19 is going to go away (or at least when we can get back to 'normal'). If your server based ERP solution, or your whiteboard, isn't helping you with this current challenge then let us know!
See you in the cloud.