What are the steps involved in ERP implementation?
There are too many stories on the Internet of difficult ERP implementations. Implementations that:
Take too long,
Cost too much,
Cause other problems in the business,
Give ERP a bad name...
It doesn't have to be this way. In this article we'll outline the basics of an ERP implementation so that you can plan your implementation effectively. There are lots of benefits to introducing an ERP system, but you can't get them if you can't get through the implementation phase.
1. Define Your Goals:
The first step in ERP implementation is to clearly define your goals and objectives. This will help you to identify the necessary features of the ERP system that will meet your needs, as well as allowing you to determine which vendors can provide the most suitable solutions.
There are lots of ERP systems available to you. Some will have specific features that are better for certain types of business / sectors. Get clear on this to make your life easier when selecting an ERP system.
For example, we've designed Fraction ERP to be low cost and straightforward. This is ideal for first time ERP users but perhaps not for seasoned ERP users with very specific ERP functionality requirements.
---
---
2. Conduct a Business Process Analysis:
This involves understanding how all of your business processes interact with each other and how they can be improved through the implementation of an ERP system.
We've created a workflow map for Fraction ERP to help you understand how our system works. Do the same for your business and it will help you to determine if there is a good crossover between how you work and how Fraction ERP works (or any other system for that matter).
---
Fraction ERP's workflow, from our support site
3. Select a Vendor and System:
Once you have identified the features that you need in an ERP system, it is time to find the right vendor and solution for your business. Make sure to compare different solutions and evaluate them on value, performance, scalability, customization options, and customer service.
Speak to the staff at the vendor company, especially their support team. Being able to work with the support team can make a huge difference to the ease of implementation.
---
4. Prepare Your Team:
Before you can implement the ERP system, it is important that your team is prepared to use the software. This means having a clear understanding of how the software works and how it can be used effectively to improve business processes or create new ones. Training should be provided for all members of staff who will interact with the system.
We offer a free two week trial of our ERP system for this very reason. Thankfully, purchasing ERP systems from short PowerPoint presentations and limited experience with a system is largely in the past. We want our users to have played with Fraction, to understand how it can work in their business.
We don't like surprises and we're sure you don't either. Getting your team ready is part of that equation.
Our full support site is available to help you with your onboarding, including our video tutorials. You can view the support site at: https://support.fractionerp.com/
---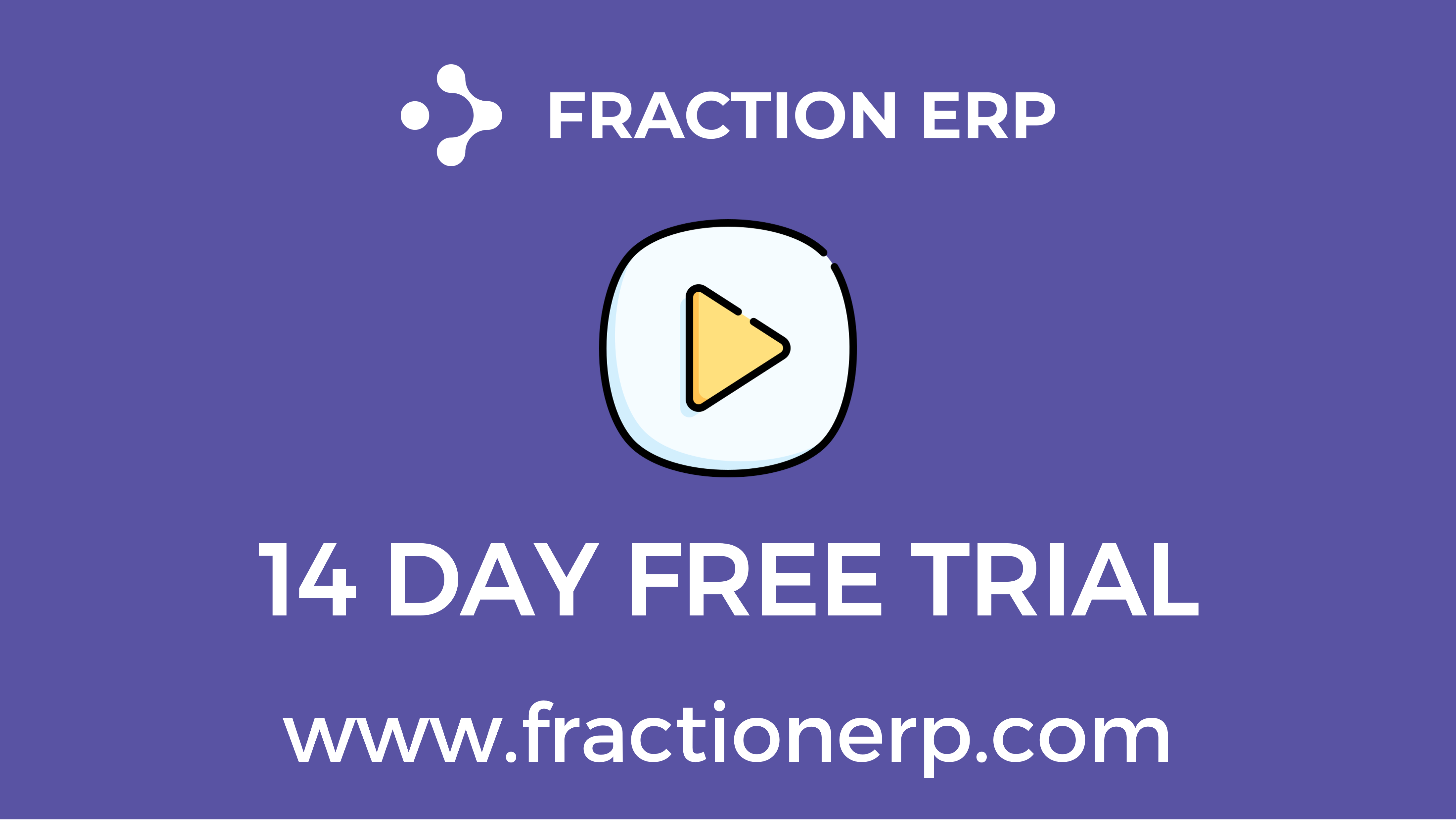 ---
5. Implement the System:
Once your team is prepared, you can begin to implement the ERP system across your business. This may involve data migration from existing systems and databases, integrating different departments together, testing and debugging any errors, as well as setting up user accounts and access levels.
For many first time users, implementing an ERP system can be a lot more straightforward. We designed Fraction ERP so that you can use the parts of our system that make sense to you. You don't have to use every single module from day one. You can use more and more of it as you get comfortable and complete your move from paper and spreadsheets to a full ERP system.
---
6. Monitor and Adjust:
After implementation, it's important to monitor how the ERP system is being used and how it is impacting your business. If there are any issues, make sure to adjust how you use the system, so that it achieves the results you want (see point 1). Additionally, you should keep up with any updates or new features that may be released by the vendor.
At Fraction ERP, as we're a cloud ERP system, upgrades and backups are automatic.
---
By following these steps, you can ensure that your ERP implementation is successful and that your business can reap the benefits of a reliable and effective system.
We've written an ERP implementation guide that you can download for free to help you to select, implement and get the most from your ERP system. We've included more information than is contained in this article. It has been written to help you get the results you want from an ERP system, not just Fraction ERP.
To get hold of your free ERP implementation guide, fill in the form below:
---
---
To sign up for a free demo, and the two week trial, use the form below.