ERP isn't a silver bullet!
Many businesses make a basic mistake when they implement an ERP system... they stop the implementation too early. Of course, this isn't a phenomenon specific to ERP systems. This is a symptom of everybody being busy and needing to move on to their next project!
For the purpose of this article, let's focus on ERP system implementation. If you are going to spend time and money moving from whatever you have now to an(other) ERP system, how can you make it work?
---
The traditional way to deploy ERP (that often doesn't work!)
We've established that the usual formula has problems. The normal approach is:
Buy the system.
Deploy it.
Move on and hope for the best.
When an ERP system works well it can make a dramatic improvement to the way a business operates. Profitability can increase. Lead times can reduce. Productivity can improve. You can maintain on time delivery performance at high levels. Sales can increase (through being a supplier of choice).
Yes, there are many benefits from implementing an ERP system that suits your business. During my (Giles) consulting career I have seen too many businesses that have failed to deploy ERP properly. You can probably guess what my assignments were... fix the ERP system!
---
Choosing a simpler, easier to learn, ERP system is a good deployment strategy
---
A better way to deploy ERP
If you are thinking that ERP implementation is a case of switching a system on, you'll be sorely disappointed. That's only day one.
An ERP system needs management. It needs routine. It needs competent staff to operate it. It needs an understanding of how the system works. ERP forces you into process management. What you could get away with on a whiteboard, or a spreadsheet, you can't with an ERP system.
The system brings with it the need for rigour and discipline. These are key ingredients to growing a profitable business. You can still be flexible and creative with how you run your business. But, you need to be aware of what needs to less flexible.
To give you a better understanding of what I am describing, consider this generic implementation timeline:
---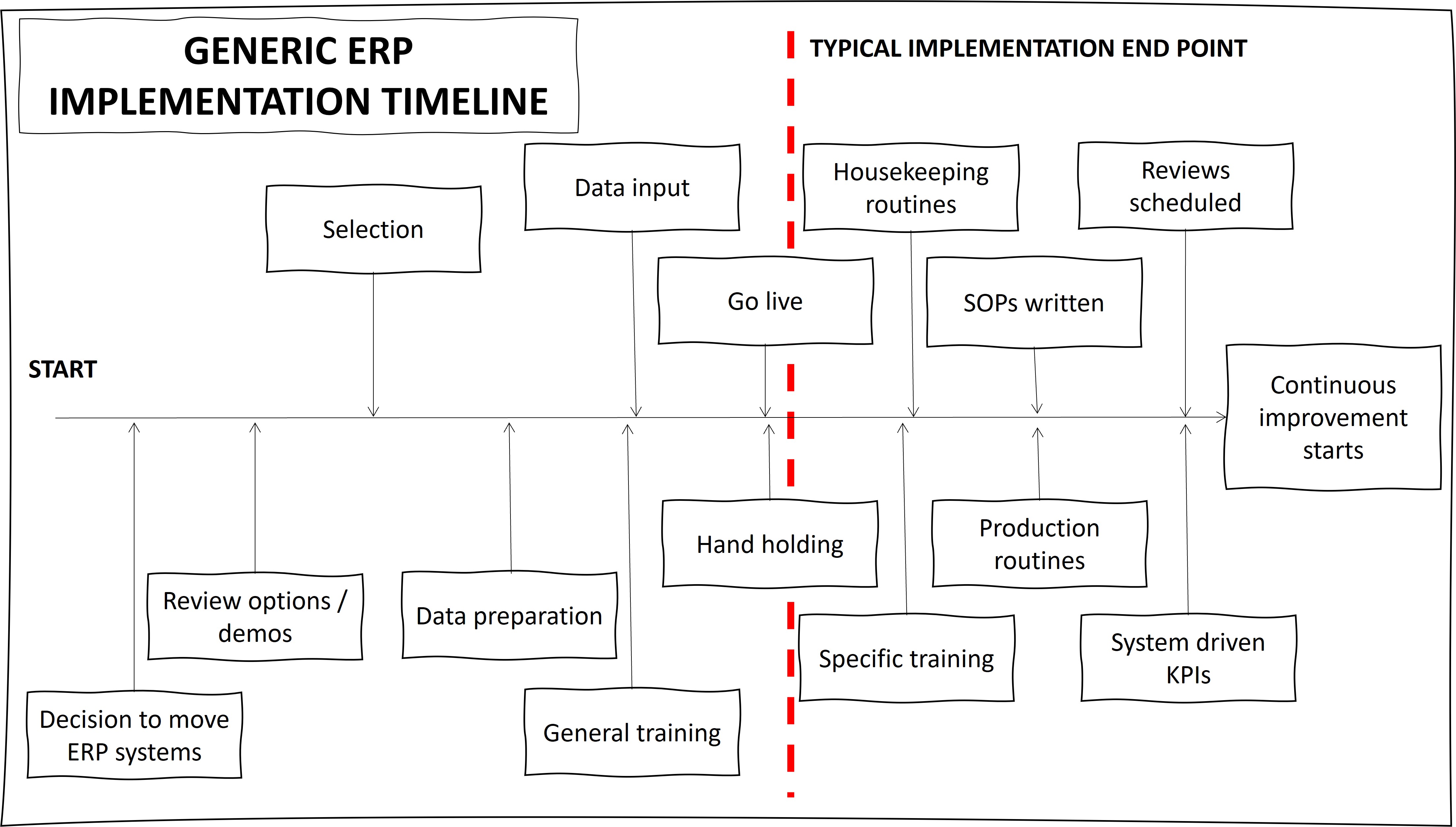 A more thorough ERP implementation approach
---
The point when many businesses think that they are 'done' with an ERP implementation is often half way through. Getting the system live and users logging in is not the end of the journey.
To be clear, it isn't a hard journey. I want you to be aware that there are more steps that help you to get the most out of your ERP system. Failure to do these things limits the leverage you can get out of your investment.
To put this article into context with Fraction ERP, we offer a few solutions to make deployment easier.
The system is designed for self onboarding. We've simplified ERP as much as possible to make this possible. This reduces your costs and makes the training elements flexible for your team.
Unlimited support is included in subscriptions. If you do need to speak to us about getting Fraction ERP working for you, it is included in our monthly subscription cost.
We wrote a free guide to help you plan out your implementation. It includes many of the points included on the timeline graphic and you can download your copy here.
Our mission is to make life easier for people moving to ERP. We've spent years stripping back the complexity of ERP so that it is easier to deploy and use. By moving to a quick to learn and easy to use ERP system you can realise the benefits of ERP in your business
---
Free demo and trial account
If you are ready to look at Fraction ERP, request our free demo using the form below.
During the demo we'll guide you through our cloud based ERP system and show you how it can help your business. If you like what you see in the demo, you can access our system for free for two weeks to continue your evaluation.
In summary, whilst ERP systems aren't silver bullets they can bring huge benefits when implemented and managed properly.