Cycle counting as an ERP stock management strategy
For many businesses, keeping on top of stock levels can take the stress out of the working day. Well managed stock levels can help you to:
Deliver on time.
Reduce production lead times.
Minimise obsolescence.
Prevent losses through poor housekeeping.
Optimise inventory levels / working capital.
Some businesses carry out full stock takes on a regular basis. Others adopt a cycle counting strategy, which can produce better results.
---
What is cycle counting
If you haven't come across this term before, cycle counting uses small regular counts. Instead of counting everything once (or twice) per year, you may count certain items every week.
A typical approach to cycle counting is to classify your stock based on their volume and value. This is often carried out using Pareto analysis (aka the 80/20 rule). If you multiply the value of your stock by the quantity you use in a year you can rank the stock items. Ranking them in descending order will give you a priority. I am sure that you will have a feel for what's important to count for your business.
For example, you could count:
Expensive, high frequency items, weekly.
Expensive, low frequency items, monthly.
Medium value items, quarterly.
Low value items, annually.
You should come up with your own approach that suits your business. The key is little and often, appropriate to the value and risk of the items you count.
---
Configuring part information
Before I share two simple approaches, configuring your stock parts is key. In Fraction ERP we offer a simple way to set up your parts.
Two important items to consider are the re-order level and the re-order quantity.
The re-order level provides a trigger to tell you to replenish. The re-order quantity advises how much to replenish with. You can apply this approach to both manufactured and purchased items. 
Part configuration in Fraction ERP
---
Two simple approaches
The first approach is to create a stock counting schedule. Download your stock information into a spreadsheet and rank your stock. Allocate responsibilities and schedule time for your team to check the stock values.
The second approach is to count items that drop below a certain stock level. This might be the re-order point. Checking at this point ensures stock accuracy, so you can manage the remaining stock. You may have more or less stock. Keeping it accurate is key.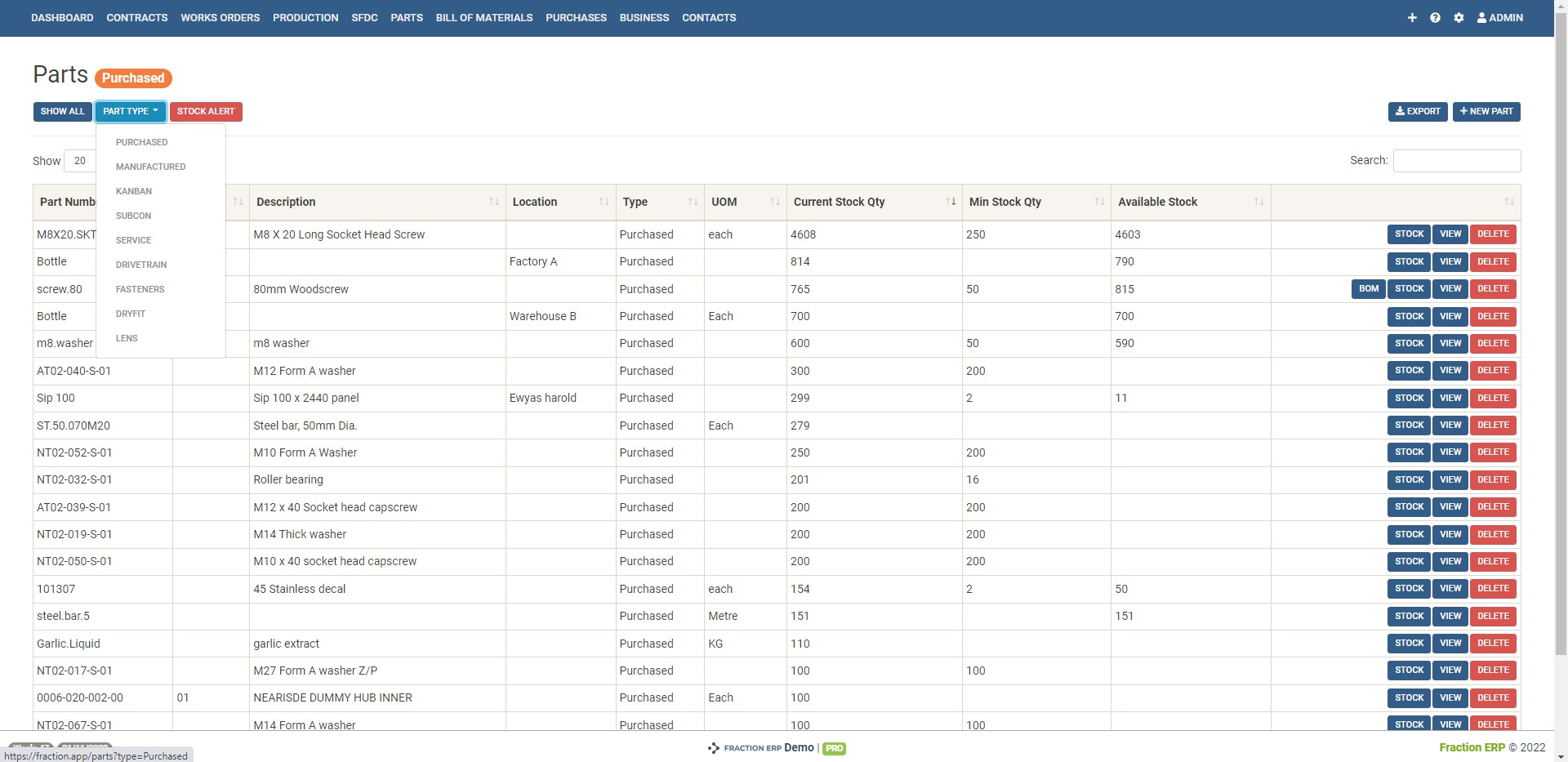 Fraction ERP's filter systems makes finding parts and exporting data fast
---
Fraction ERP's stock adjustments
If you find that you need to change your stock levels, Fraction ERP makes it easy. Click on the adjust stock button and enter the new value. Stock levels are immediately updated.
You can also add in a reason for updating the stock. This could range from 'cycle count' to 'found stock on another shelf'. Standardising your comments can make this more effective, should you review the changes.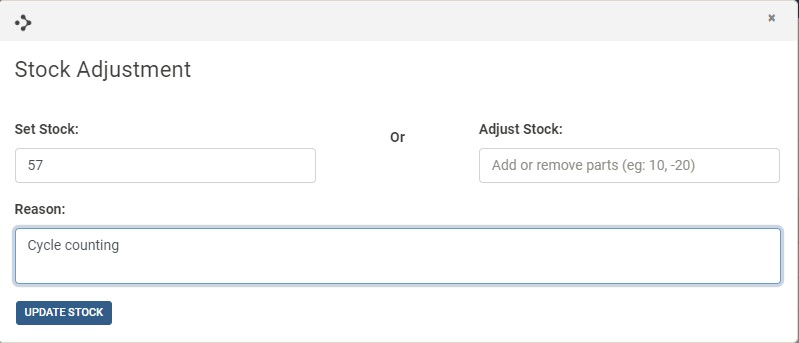 Simple stock adjustment screen within Fraction ERP
---
Do you run out of stock?
If your business runs out of stock on a regular basis then consider a cycle counting approach. If it isn't stock accuracy then consider updating your part data. Tweak your re-order levels and re-order quantities and monitor.
If you'd like to learn more about Fraction ERP's easy to use interface, we offer a free online demo.
If you like what you see in the demo then you can access Fraction ERP for two weeks, on your own account, for free. This should give you enough time to evaluate the system and see if it can help your business to thrive and grow.
To organise your demo, fill in the form below.