Shop floor tracking
One of the repeat questions we hear during demos is 'why should I use the shop floor tracking tools?'.
If you have ever spent time walking around your factory to find out where production are up to with your order book, then you'll have a feel for the answer...
...shop floor tracking tools help you to free up time so that you can do more useful things.
We're not saying that finding out where you are isn't important, but doing it efficiently is key to using your time effectively.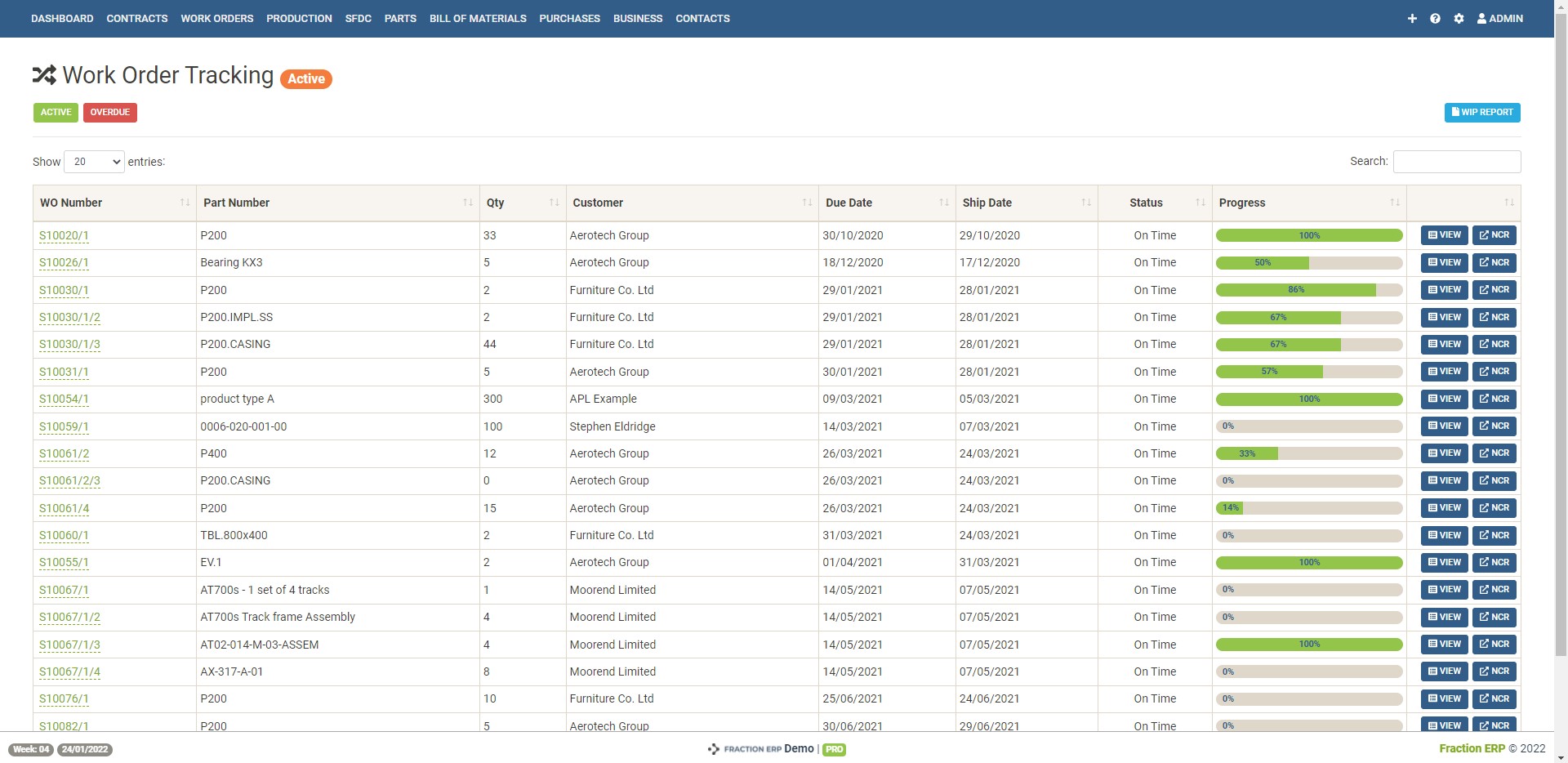 Fraction ERP's 'at a glance' shop floor tracking screen
Using your time differently
How many improvement projects could you straighten out and close out, if only you had the time?
What would your internal training be like, if only you had the time to organise?
How much extra business could you take on, if only you had the time to catch up with your customers like you know you should?
There will be more answers, and you'll know the ones that are relevant to you and your business.
The key point is this, shop floor tracking tools can help you to re-direct your time into more useful activities.
Free shop floor data capture
We don't want our customers to choose between having these tools, or not. Many other ERP providers will charge an additional fee for adding shop floor users onto the system, to record actual progress with work orders. We don't.
We include unlimited shop floor users with our paid subscriptions, so bring your teams into Fraction from day one for no additional cost.
There are a couple of ways that you can start the real time tracking of production orders in Fraction ERP, but one of the best ways is via the 'work to list', see image below.
Fraction's work to list, with quick link to SFDC (Shop Floor Data Collection) on right hand side
Start saving your time today
If freeing up your time from shop floor tracking tasks sounds good to you, get in touch today. We can organise a free online demo, to show you more of what Fraction ERP can do. We built it to save time and help simplify the administration and organisation of factories. We're all from manufacturing backgrounds, so we've probably experienced the same problems that you are facing right now. More importantly, we designed Fraction to be flexible, so that it is easier to fit in with your way of working.
If you like the demo, then you can take advantage of our free fourteen day trial. During this time you can get a feel for whether Fraction ERP will be a good fit for your business.
To get in touch, use the form below.